To appeal to millennials, who represent the largest group of consumers today with massive buying power, brands need to truly understand the hallmarks of this unique generation. They need to learn who these people are and what they want in terms of marketing and communications. Because when marketing to millennials – you need to do it right!
* This article is written based on  the findings from our own research of 1000+ consumers within the millennial generation, as well as on external research.
We'll walk you through:
Why companies should care about millennials
Common characteristics of  the people in the millennial generation
How millennials spend time online
Millennials' view on influencer marketing
Marketing that appeals to millennials
Prefer to listen? Check out our podcast episode about marketing to millennials.

Why should companies care about millennials? 
Today millennials constitute the largest generation group in the world and they will continue to be a major part of the population for many many years. As they now are reaching their prime spending years, their impact on the economy and on the retail landscape is going to be huge – something that companies need to keep a close eye on.
With their unique traits and experiences, growing up in a digital age, millennials are poised to reshape what the consumer landscape looks like, forcing companies to examine how they do business. Also, companies will need to rethink how they market themselves towards these consumers, as they look for totally different things in brands compared to previous generations. The companies that do it right, that manage to reach and connect with this audience, stand a much better chance to win market shares moving forward.
What defines a millennial?
A millennial is a person born between 1981-1996, aged between 25-40 in 2021, and constitutes more than a quarter of the world population! Millennials are already the largest generation in the workforce and soon they will also be the largest living adult generation.
This generation is generally marked by its high usage of and familiarity with the Internet, mobile devices and social media. This is why millennials are often termed as digital natives; a young person who has been brought up in an evolving digital age, in close contact with modern technology.
According to Accenture, millennials spent $1.4 trillion on shopping in 2020 globally. As a generation known for its large spending power, there's no surprise they are spending more money in-store and online than any other generation
Common characteristics of millennials
Millennials are a very diverse generation, whose attitudes, motivations and interests depend a lot on which stage of life they're at. Some are 25 years old, just got their first apartment, in the middle of an education and single. Some millennials are 40 years old; living in a house, got kids and a permanent job.
They have been brought up in a modern, constantly evolving digital age and are known for being comfortable with technology. No surprise that millennials are more positive about the internet as a good thing for society, compared to older generations. This is most likely a factor in why millennials seek transparency and the sense of a community when looking at brands.
A typical trait of the millennial generation is that they are quite unique when it comes to integrating personal values with their shopping behaviours. They are often involved and have a clear perception when it comes to political, social and environmental questions. This is later shown in the way they let their opinion affect what brands they chose to engage with or not. If their opinion doesn't conform with a company – they often look to other companies.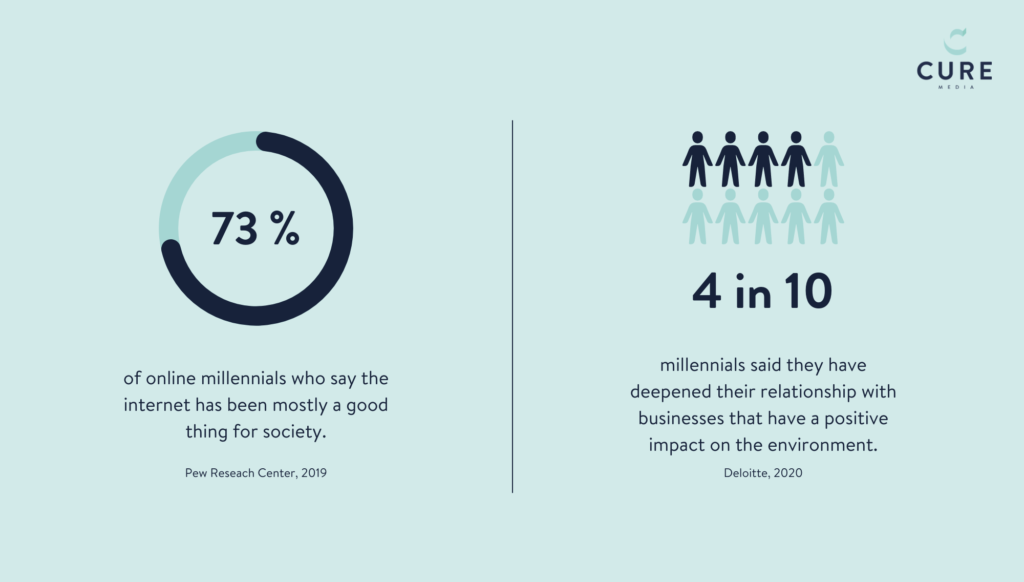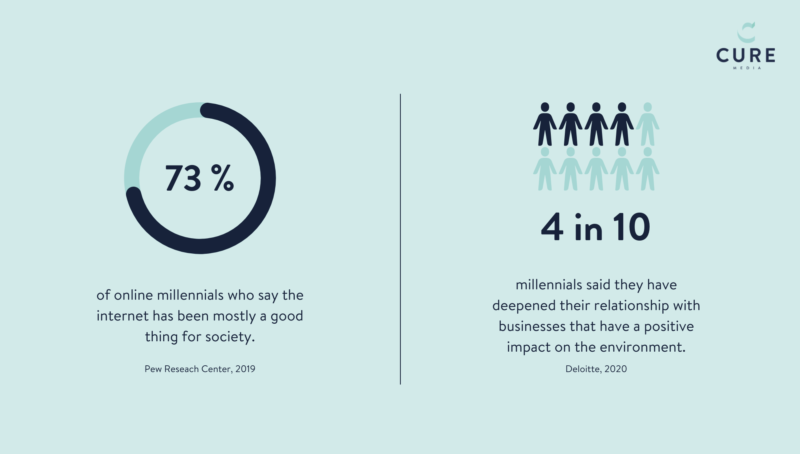 They definitely prioritise brands whose values and beliefs align with their own. This is also why brands need to have a meaningful purpose, and be more than just companies. Not only are millennials looking for the cheapest or best product, but instead, they are looking for companies that align with their beliefs and values.
Why marketing is important to millennials
As mentioned before, millennials are a value-based generation in that they need to know: What's in it for me? Why should I choose your brand over all other brands? As a brand, it's important that you showcase how your product, service and company supports this generations' key values.
Research from Nielsen supports this and shows that millennials will often pay more for brands that support green initiatives or have local roots. Putting their money where their hearts are, makes it increasingly important to sell the "why" of your company.
How millennials spend time online
How do millennials like to spend their time online? Let's start with some basic facts. In terms of media consumption trends, millennials are the generation with the highest use of social media (90,4%) and spend an average of 2 hours 44 minutes on social media each day. This is 18 minutes longer than the global average.
What does this mean for brands? This means that a social media presence is no longer a nice-to-have, but a necessity. It's important to meet millennials where they live and breathe, and that is on social media. The social platforms are today's shopping window for this generation and where they seek inspiration, research products and get to know brands. Here you can tell your story and create a community around your brand and your products.
Most popular social platforms among millennials (age 26-35):
Facebook 78%
YouTube 77%
Instagram 63%
Twitter 48%
Further down on the list we spot Snapchat (30%) and TikTok (16%). These platforms are more popular among the younger generation. Most active users of TikTok and Snapchat are between 16 and 24 years old and belong to Generation Z – people that have grown up with the Internet and take digital communication for granted.
Moving on to how millennials are influenced on social platforms, a recent study by Morning Consult show that the most common way for millennial women, who are a common target audience for fashion brands, to learn about new products they have an interest in buying – is from influencer's posts on social media.
How millennial women learn about new products you're interested in buying:
Influencer's posts on social media (20%)
Advertisements on social media (19%)
Friends and family's post on social media (15%)
Word of mouth (15%)
TV (14%)
Millennial men say they most often learn about new products to buy on TV (23%), Friends and family's post on social media (17%) and Word of mouth (17%).
What type of marketing do millennials prefer?
Authenticity is important when creating marketing for millennials, communication needs to be authentic as they are skeptical towards traditional advertising. Millennials listen to peer-to-peer communication and seek a meaningful context in marketing. As a brand, building relationships and a strong community is the key. As social media is the most popular media for millennials when it comes to finding new products and being entertained, let's focus on what marketing they prefer there.
User-generated content
As many as 84 percent of millennials report that user-generated content on a company's website can influence what they buy. Combined with the fact that 57% percent of millennials say they discover fashion trends on social media, influencer marketing for fashion brands is highly recommended.
By working with influencer marketing, you can reach your millennial target audience where they spend time, social media, and at the same time get access to the high-quality content that influencers create. Because of its high credibility and authenticity, millennials have easier to relate to it, and as the research proves, it influences what they buy. A study by Edelman shows that when a message comes from a regular person, rather than from a company – it's inherent in our nature to respond to it on a deeper level. Don't you agree?
Social commerce
The big thing with social commerce is that users now have the opportunity to browse through products on social platforms and make purchases directly on the social platform itself – without ending up on a third-party website. Social media becomes a one-stop shop, taking millennials all the way inspiration to check-out! Be creative with the possibilities that exist, for example live shopping on Instagram.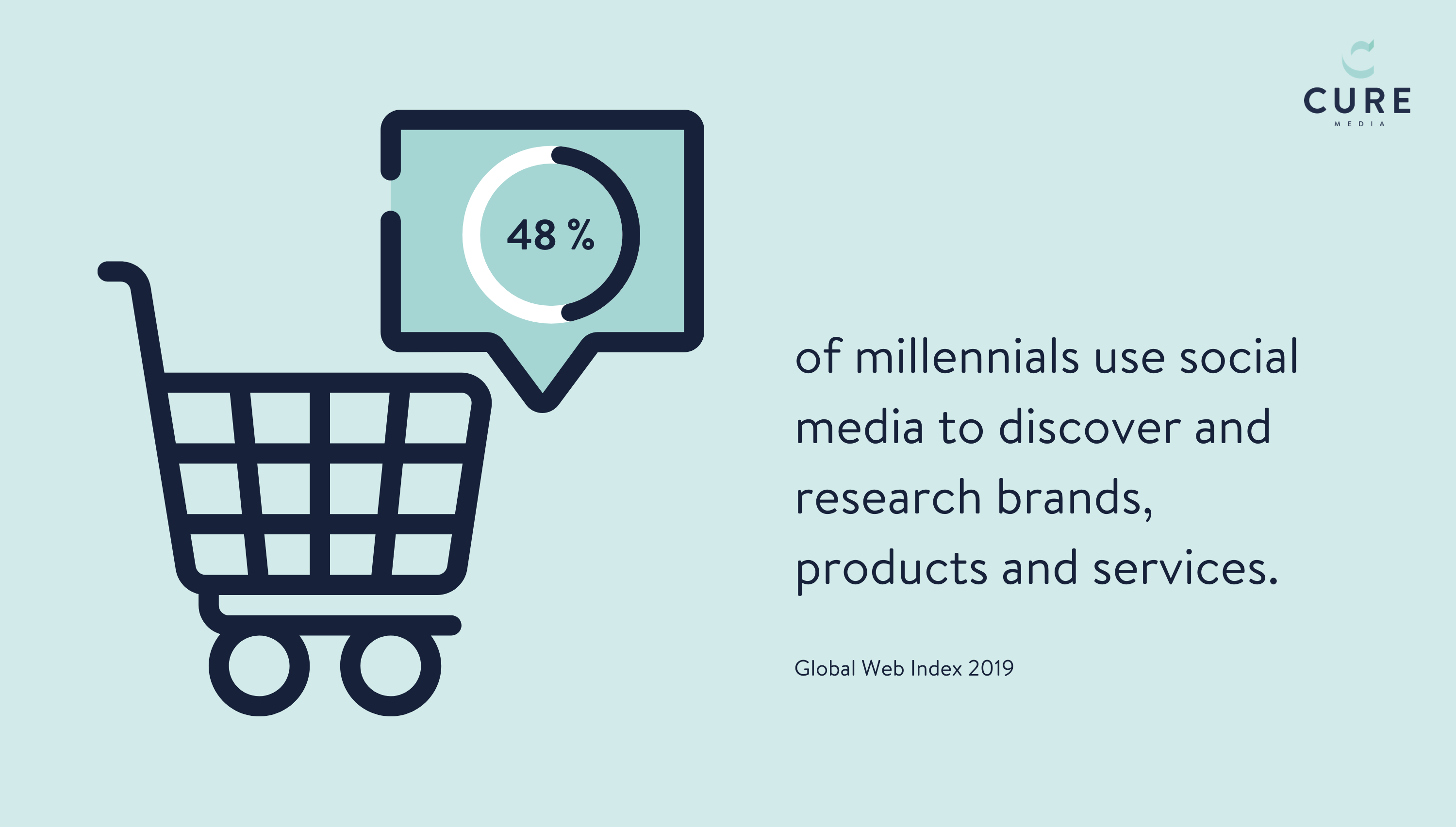 Timely with restrictions to stay at home, Instagram dropped a ton of new tools and features that are likely to make a big difference in how people shop online. It definitely puts the app on the map as a platform for e-commerce. If you want to reach millennials, make sure you have a profound social commerce strategy for how to sell on social networks. With a lot of new features that open up for brands to sell on social networks like Instagram, social shopping is predicted to increase a lot in the upcoming years.
Read all about Instagram's shopping features in our trend report! 
Entertainmerce
If you haven't heard of "entertainmerce" before, it's a merger of entertainment and e-commerce. Today, 29% of consumers worldwide aged 16-64 say that if the shopping experience is entertaining, it encourages them to buy a product online. This has become increasingly important as a result of the pandemic, making people turn to social media for both online shopping and to socialize. There's no exception for millennials.