Want to know about the state of influencer marketing in 2021? You've come to the right place. We've researched the trends, perceptions, challenges and future investments in influencer marketing to gather brands' and consumers perspectives on the state of the industry in 2021.
The following influencer marketing statistics are based on our research of 300+ leading European B2C brands from various industries including fashion, interior, beauty and lifestyle, as well as 1000+ UK consumers within the millennial generation.
Influencer marketing statistics 2021
80% of B2C brands currently or plan to work with influencer marketing. (Cure Media)
We're seeing a huge shift in 2021 whereby four in five B2C brands are proactively using or considering influencer marketing as part of their marketing activities. Not only does this reflect on the trust that brands have in influencers, but brands are starting to understand the value that an influencer marketing strategy provides.
85% of marketers say that their top goal with influencer marketing is to raise brand awareness. (Cure Media)
In a world with more brands and companies than ever before, especially so on the digital scene, knowing how to stand out from the crowd is a must for most marketers. Influencer marketing is a great way to increase brand awareness, and this stat reflects on the priorities that brands have when considering influencer marketing.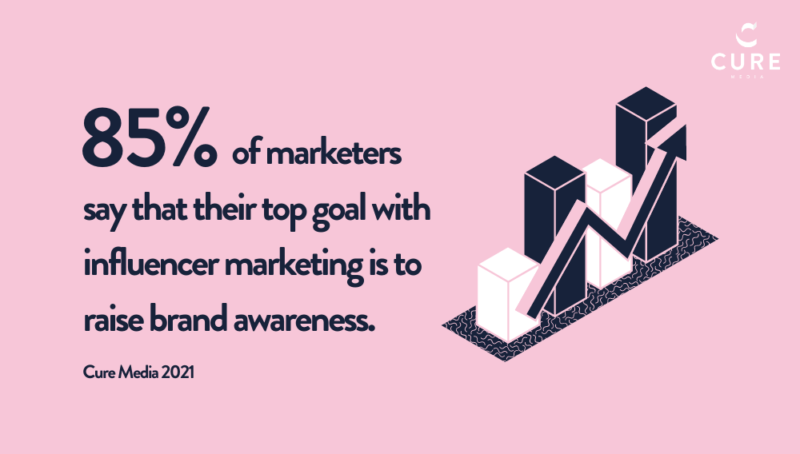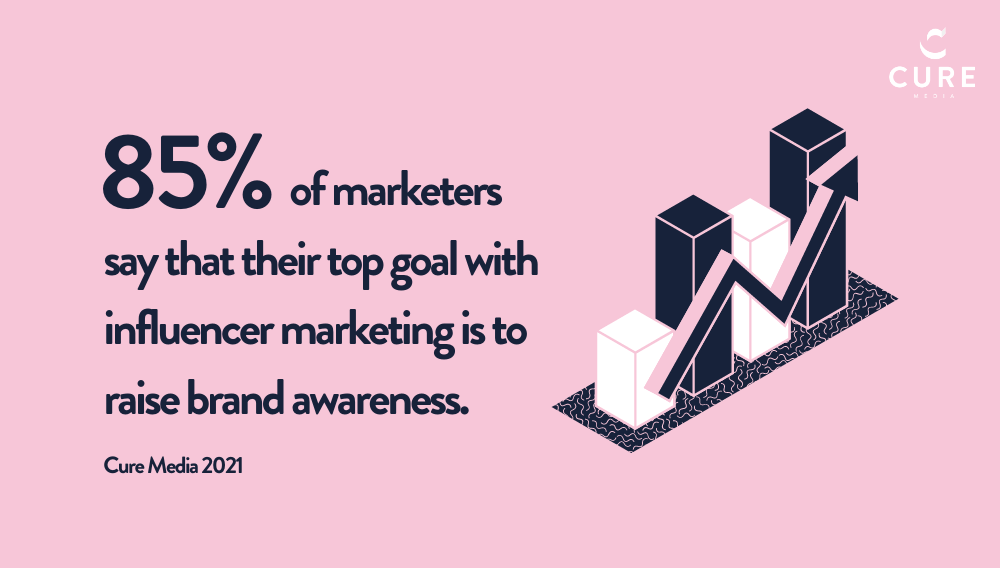 80% of B2C brands outsource their influencer marketing activities. (Cure Media)
Most B2C brands don't have dedicated in-house teams to execute influencer marketing activities. The influencer landscape is much more complex today compared to just a couple of years ago, and there are multiple tactics and platforms to choose between in order to build a successful strategy. This makes it difficult to effectively handle influencer marketing in-house without getting external help from an influencer marketing agency.
62% of marketers say that measuring the effect of influencer marketing is their biggest challenge. (Cure Media)
The majority of marketers say their biggest challenge with influencer marketing is the ability to measure its effectiveness. At the same time, being able to tell how a marketing activity affects the business's performance, and ultimately the bottom line, is key. One of the reasons why marketers struggle with measuring the effect of influencer marketing is probably because the industry tends to take a very short term view to the channel. Also, most marketers do not consider how influencer marketing affects other channels, i.e. how to measure the indirect effects of the channel. These can also be called "positive spillover effects" or "interaction effects".