Media. Sometimes it feels like you can't live with it but you sure as hell can't live without it. As the number of devices and channels proliferate, it will become harder and harder for brands to cover every avenue, forcing marketing teams to be more decisive and analytical about the choices they make regarding their resources and budgets.
So with traditionally fickle consumers indicating a predictable shift in preferences and habits for the year to come, what media consumption trends will marketers need to factor in as they draft up their strategies for 2023?
Media Consumption Trends 2023
1. No slowing down for digital
In 2020, the average consumer spent 474 minutes a day on digital media. Let's break that down. 7 hours and 54 minutes. Every single day. Basically a third of their life.
By 2023, that number's going to climb even higher.
With experts predicting that the average consumer will spend upwards of 500 minutes on digital media next year, this is a prime time (or arguably, long past it) for brands to get serious about their online presence beyond the website. But with the landscape already partially dominated by digital native brands, those joining the party a bit later will need to consider their strategy carefully; room for trial-and-error will be more limited and best practices should be implemented from the off in order to compete.
2. Print approaches flatline
One media channel we'll see particularly struggle in 2023 will be print. Having limped along for years now, the era of newspapers and magazines appears even closer to its end with our research finding that just 26% of consumers would consider turning to the channel for shopping inspiration – a number that drops even further to a mere 19% when you funnel the data down to Gen Z.
While only a decade ago consumers still spent 448 minutes a day on traditional channels such as print, by 2023 research indicates that figure will have dropped by almost 40% – part of a decline that shows no sign of slowing.
In theory, this shouldn't come as news to brands with only 12% reporting that print was a primary marketing channel for them in 2022. And yet research shows that almost half a billion pounds will still be invested in magazine advertising in the UK alone in 2023. As the world contemplates the impact of further recessions, this is a discrepancy brands simply can't afford and could indicate wider concerns around the channels to which marketers are allocating budget.
Learn more about how marketers tackled channel choice and influencer marketing in 2022…


3. Mobile rules all
By 2023, smartphones will account for 35% of all media consumption with the majority of that consumption (and the time spent on smartphones generally) taking place on apps (so if your brand doesn't have one already, it might be time to get one!)
Such is our dependence on our handheld devices, that in the second quarter of 2022 US consumers made more than double the number of visits to ecommerce websites from their mobile than they did their desktop. And while undoubtedly some pockets of shoppers still prefer to seal the deal at their computer, 60% of ecommerce purchases were actually made from smartphones in the same period, making smartphones the number one device for online shopping nowadays.
As tech continues to push new boundaries in digitally transforming the retail experience, we can expect to spend more time and money on mobile in 2023. With fintech providers like Klarna offering multi-destination shopping within their app, and social platforms like Instagram rushing to roll out more in-app shopping functions, brands will be able to take shoppers from checking out their wares to checking out their basket right in the places they're already spending most of their time.
4. But it's still social
But while groans and grumbles have been made about time spent on mobiles, particularly whenever discussions around Gen Z come up, it's interesting to note that one of the primary purposes for being on mobiles remains social interaction.
The number of global social media users – already a colossal figure in 2022 – will continue to grow, reaching 4.89 billion in 2023. And with new platforms arriving, from the stratospheric success of TikTok to the (potentially) sleeping giant of BeReal, the options available to those who want to connect with others online will only increase – as will the options for brands looking to engage and nurture audiences new and old.
While this has historically been a lucrative avenue for brands, and could continue to be so, the mass of users will use their collective might to set higher terms of engagement for them. The message: this is their turf. Consumers will continue to rely on their social networks online for brand recommendations and will even be happy to follow and interact with brands they respect on social media platforms, the pressure will be on brands to deliver authentic experiences that assimilate into the social media experience, rather than simply treating it as another billboard.
Find out how one of Europe's biggest interiors brands MADE.com carved out their space on social to build a passionately loyal following in a crowded marketplace…

5. Ad tolerance decreases
And while we're on the subject of billboards…
Though we might predominantly think of media consumption in terms of the media we pursue and choose to consume, be that the articles we read in magazines (though perhaps not the best example) or the content we seek out on social media. However, it also applies to the media we might take in on an almost subconscious level.
So, let's talk advertising.
Traditional brand-to-peer advertising has been really the only kind of advertising for centuries and in that time it's been tolerated and even, in some instances, applauded. But as social media platforms have increasingly flooded our feeds with brand ads; with streaming services now offering an ad-free way to watch TV; and as billboards become increasingly background noise to passers-by consumed by their mobile devices, traditional advertising is going to feel the burn in 2023.
In fact, in 2022, research firm Kantar found that 66% of consumers will skip or pay to avoid ads, 48% already use ad blockers and 45% simply don't watch them (and probably shop on their mobiles instead).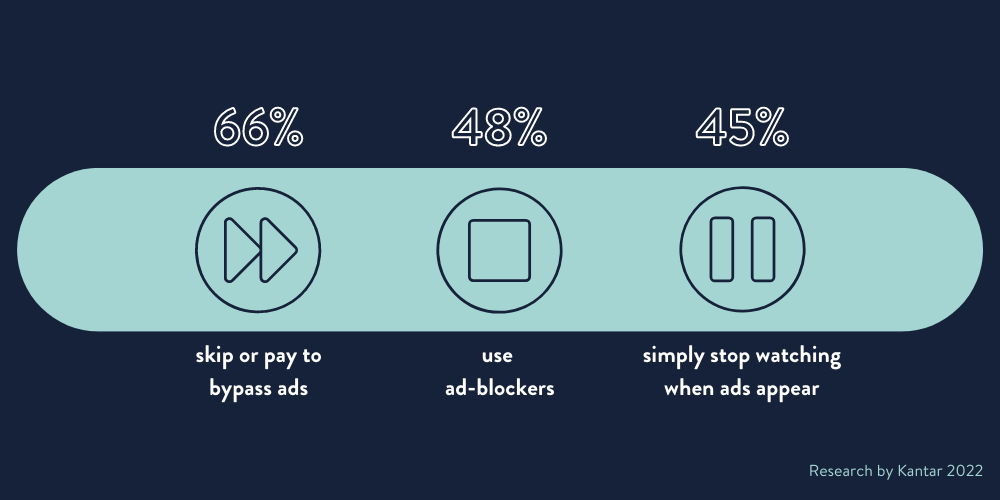 This, of course, does not mean an end to all marketing. But it does mean brands will have to be cutthroat about the channels and tactics they're employing to do it. Taking a critical eye to your marketing strategy and incorporating more nuanced versions of marketing (P2P, influencer and quality video content, for example) will be critical to survival in 2023.
Media consumption trends 2022
In recent years, a big shift has taken place with regards to how today's buyers are consuming media; going from sitting planted in front of the TV at 8PM on Friday nights, most of us now prefer being able to choose when we want to engage with content. And media consumption often takes place on social platforms such as Facebook, Instagram and YouTube, instead of through the traditional channels.
In this blog post, we will map out what the current media consumption trends look like (along with previous years for comparison), to give a clearer picture of where to find your specific target group. We will also take a closer look at the digital shift that is currently taking place on a global scale.
Media consumption has changed significantly in the last 12 months and marketers are looking to capitalise on the newest media consumption trends for 2022. Some of the key questions around this topic are to do with where the target audiences spend time and what do they do?
This year we're going to focus on women Millennials (aged 25-40) and Gen Z (aged 5-24), specifically focusing on how marketers that target these audiences can benefit from the latest media consumption trends. to keep in mind before we start is that not only are they the most coveted audience online right now, they are also the ones with the highest time spent on social media, spending approximately 3 hours a day and counting. Even though a part of Gen Z are still very young, the majority of this generation aren't kids anymore. In fact, they have huge purchasing power.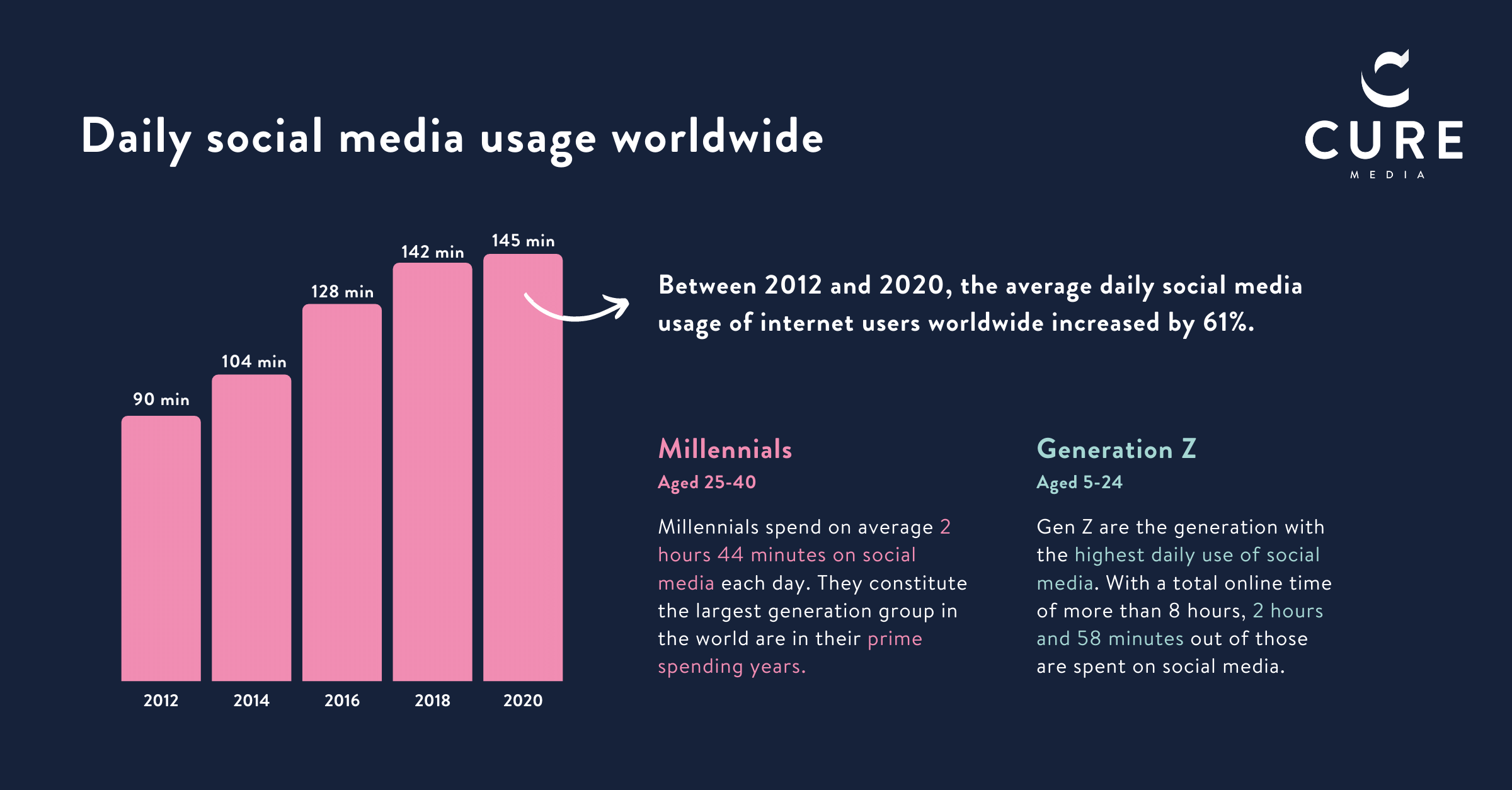 Without further ado, here are the key media consumption trends in 2022 that you need to be aware of:
1. Cause-led marketing (that matters)
Millennials and Gen Z are the biggest driving forces behind cause-led (or purpose-led) marketing, which is all about using marketing tactics to speak to, elevate or drive a higher cause. It might be raising awareness about environmental issues, speaking to concerns around social justice, or any kind of humanitarian cause that consumers can get behind. This is definitely a bigger driving force behind consumers purchasing decisions that we are going to see more of in 2022.
In this 20-minute podcast episode, Sanna Ödmark talks to Kristina Hermansson, CCO at Cellbes about their transformation journey, diversity and inclusivity as two integral parts of their business, and how they use social media and influencers to reach and attract their audience.
This ongoing trend has particularly risen after Covid-19. I think we can all agree, it's been a pretty rubbish couple of years due to the pandemic. People are looking for something positive or good to invest in. Today, mass production has driven the pricing war race to the bottom and as a result of this culmination, brands have been forced to find new ways to differentiate. Unfortunately, this led to brands undercutting each other (which is something that has been working for a long time). The issue is that we're now at the point where brands are selling 10 dollar bikinis online – there's nowhere left to go as far as price is concerned. That's where cause-led marketing comes in and the "why" behind the fact that brands in 2022 need to find new ways to stay relevant.
Looking at the numbers, research on this topic shows that consumers already want brands to have a cause-led approach, they are not just expecting it. 53% consumers want to shop from brands that reflect their values, and when talking about Millennials and Gen Z, this figure grows to 64%.
In this podcast episode, Frida Ekholm talks to Neve Fear-Smith from Talking Influence about how today's consumers are putting pressure on brands to take a stand on important social issues and how to approach this as a brand.
Looking towards environmental issues, knowing a company is environmentally friendly is among internet users' top 10 purchase drivers. It doesn't have to cost you more money to grasp more responsibility; 60% of internet users in the UK and US actually say they'll pay more for products that are eco-friendly.