Social shopping is transforming the eCommerce sphere and the way consumers shop online. Yet many companies today have millions of followers on social media that they don't benefit on – while some successfully have major revenue streams through social platforms. If you're quick to adapt to new features and platforms and stay relevant to your audience, it's likely that your brand can be among those that succeed to leverage on social commerce.
In this article, we'll walk you through why fashion brands need to have a social commerce strategy today and what opportunities there are for them to drive sales on the popular platform. We will also cover the basics behind social commerce; what it is, why you need to care, as well as the game changing tools that's available on Instagram.
Prefer to listen? Tune in to this podcast episode!

What is Social Commerce?
Let's first understand the difference between eCommerce and social commerce? eCommerce is buying and selling products and services through a website while social commerce is buying and selling products and services on social networks such as Instagram, Facebook and TikTok.
The big change with social commerce is that users can browse through products on social platforms and make purchases directly within an app without going to a third party website. It becomes a one stop shop that brings your followers from inspiration to check-out! It's important to keep in mind that social commerce owns the entire buyer journey. It also shortens it as brands can easily lead the customer from a window shopper into a customer.
News! Shopping on Instagram just got easier. 🛍

All eligible businesses and creators in this US can now use our checkout feature, which lets you buy and sell products directly in app. Businesses can also now sell through Live, which means you can buy products in real time. pic.twitter.com/rpdxiEdLuD

— Adam Mosseri 😷 (@mosseri) August 25, 2020
We know that there's a jungle out there with new updates and features launching one by one. This is why we, in this article, will focus on social commerce on Instagram as the platform has a lot of new potential with its new features and tools that keep users within the app.
Why should fashion brands care about social commerce?
Social commerce is booming on platforms all around the world; Wechat and Pinduoduo in China, and Instagram and TikTok in the Western world. It's happening a lot within social commerce right now and it's quickly moving forward. In 2020, Instagram launched several new features that makes it possible for brands to sell directly to their target audience within the app.
According to Cision, the global commerce market is estimated at $89.4 billion in 2021 and is set to reach $604.5 billion by 2027. You simply don't want to miss out on this consumer shift that's moving faster than any of us could imagine. To be more precise, the pandemic in 2020 jumped eCommerce forward by 5 years.
(Time to let that rapid development sink in).
If you're trying to market to Millennials (aged 25-40 in 2021) or Gen Z (aged 6- 25 in 2021) – social media is where they spend most of their online time. Millennials spend approximately 2 hours 30 minutes on social media daily. This is 18 minutes longer that the global average. Gen Z spend even longer – around 3 hours on social media every day.
It makes sense that you as a brand need to have a social media presence. This is no longer a nice-to-have, but a necessity. Check on that? Great!
Looking at how Millennials and Gen Z shop online, the social platforms are today's shopping window and where they seek inspiration, research products and get to know brands. For example, 84% of Instagram users (a.k.a majority of Millennials and Gen Z) say they find new products on Instagram. This is why it also makes sense to sell to them on social media.
While reading this, almost 50% of social media users between 18-34 have already participated in social commerce on platforms like Instagram, TikTok and Snapchat. The question is, are you one of the brands they shopped from?
What's fascinating in today's digital world is that every brand stands the same chance. High streets are no longer located within the bounds of city centres and you don't have to afford the most expensive flagship store location. Seeing as not all fashion brands work with social commerce today, there's a chance to be early. It will be a key to success in the upcoming years – especially if you are a direct to consumer brand.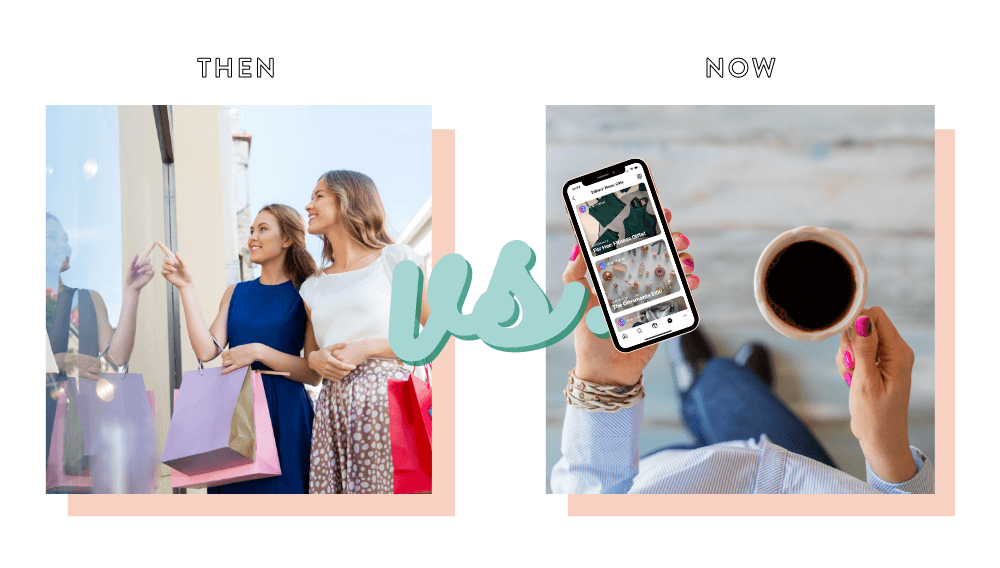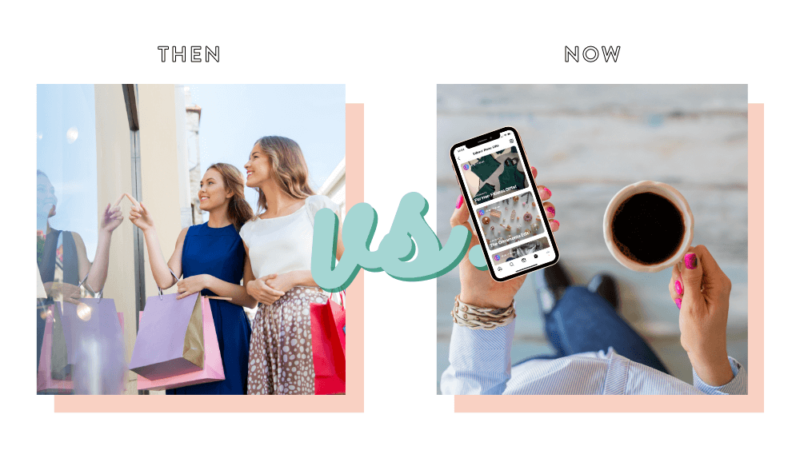 How does social media influence shopping behaviour?
Social media has a big impact on how consumers shop online. Popular platforms like Instagram, TikTok and Pinterest are continuously investigating features and tools that make their content shoppable.
As of today, this is what Instagram users mainly use the platform for:
Post/share photos or videos
Find funny/entertaining content
Follow/find information about products/brands
In addition, recent studies have shown that 43% of internet users have used social networks to research products online. This number is increasing a lot when referring to Millennials and Gen Z where 88% say they learn about products they are interested in buying on social media.
Social media is the place where audiences research brands and products before buying, so your presence on these platforms has a big impact on their choice of brand and products. This also applies to influencers and friends who influence their choices. Consumers want peer-to-peer communication as they trust people more than brands. Authenticity and building relationships and a strong community is therefore the key to make people choose your brand over the rest.
Talk to your customers where they spend time and amplify your social media strategy by working with influencers. By collaborating with influencers who stand for the same causes, you will also have a bigger chance to win over the Millennials and Gen Z audience and gain their trust by creating a dialogue and building relationships.
How does social commerce support changing consumer behaviour?
Social commerce supports these changing behaviours because it encourages people to connect with a business through two-way communication. This is also where the benefit of it lies. The social aspect combined with the shopping aspect makes shopping interactive, fun and all about building relationships and leading consumers from inspiration to checkout.
'Entertainmerce' is also a hot topic when talking about especially Millennials and Gen Z shopping behaviour right now. As funny and entertaining content is one of the top motivations for using social media and one that has grown fast over the past year this is definitely something to tap in to as a fashion brand. An example of an entertaining shopping experience is live-streaming on social media.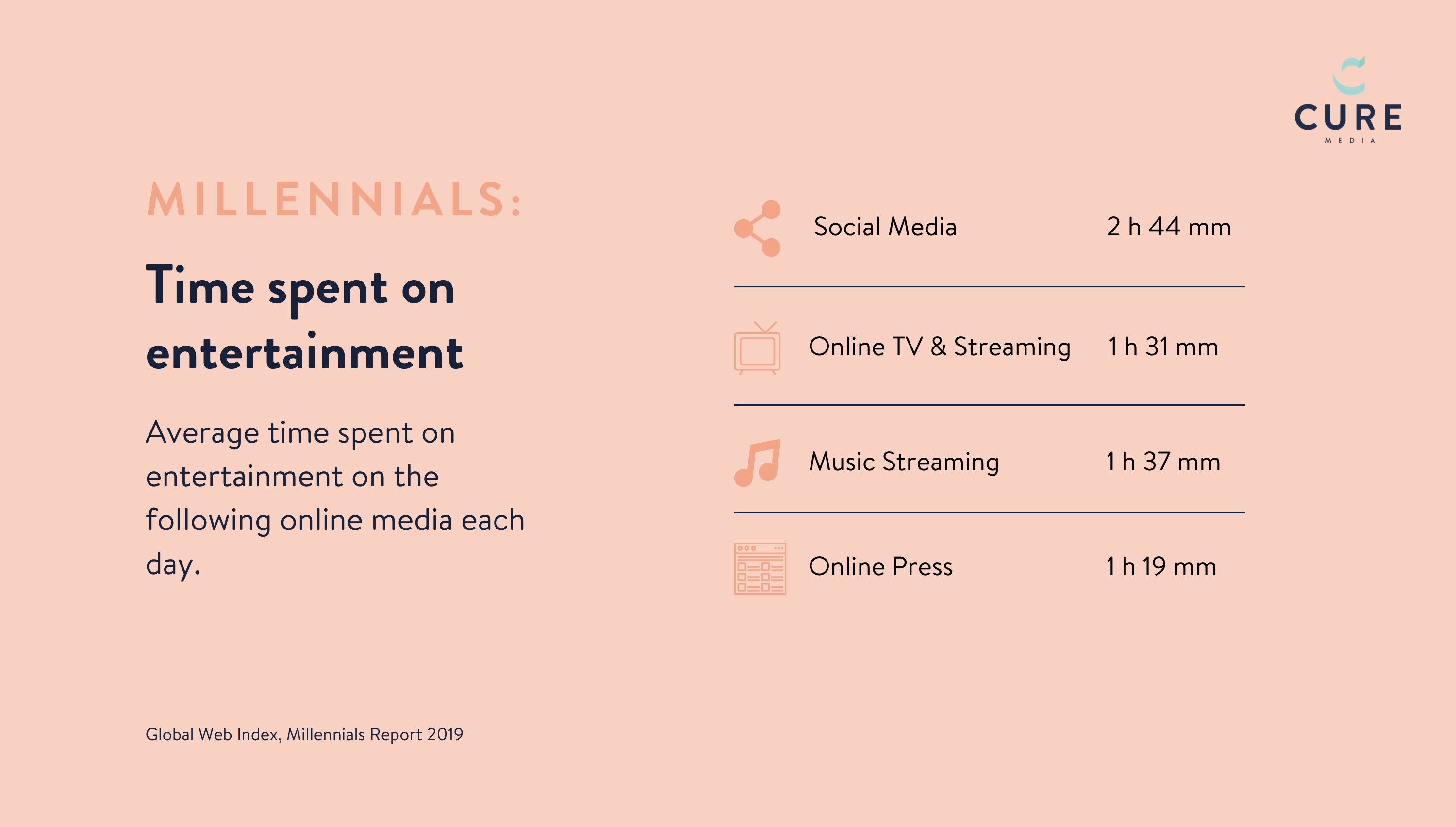 Even though it's a fairly new phenomenon, more and more brands are now starting to adjust their social media and influencer marketing strategies accordingly. The benefit with a live video is that it's possible to create a deeper dialogue with viewers. As a brand, you can get an idea of what questions they have, what's on their mind, and how you can better meet their needs, both in terms of product lines but also from a content and communication perspective.
How to use influencer marketing for social commerce
You can incorporate influencer content into your social strategy in both organic and paid channels. This strategy can be extremely effective, and some of the most successful fashion brands work this way. They do this by running a multilayered campaign approach with a brand awareness campaign that's optimised on brand recognition across their paid social with brand content, and then having influencer collaborations with influencer generated content ads on paid social. Use influencers to engage and reach your target audience, e.g. host a liveshopping where customers can see how your products look and shop directly from it, and also use influencer's content too e.g. create shoppable ads. We're seeing more and more instances of these strategies being used within fashion influencer marketing.
Here's an example of how a livestream can look like together with Ellos, an e-commerce company in the Nordic market offering fashion and home furnishings. Check out the full video here.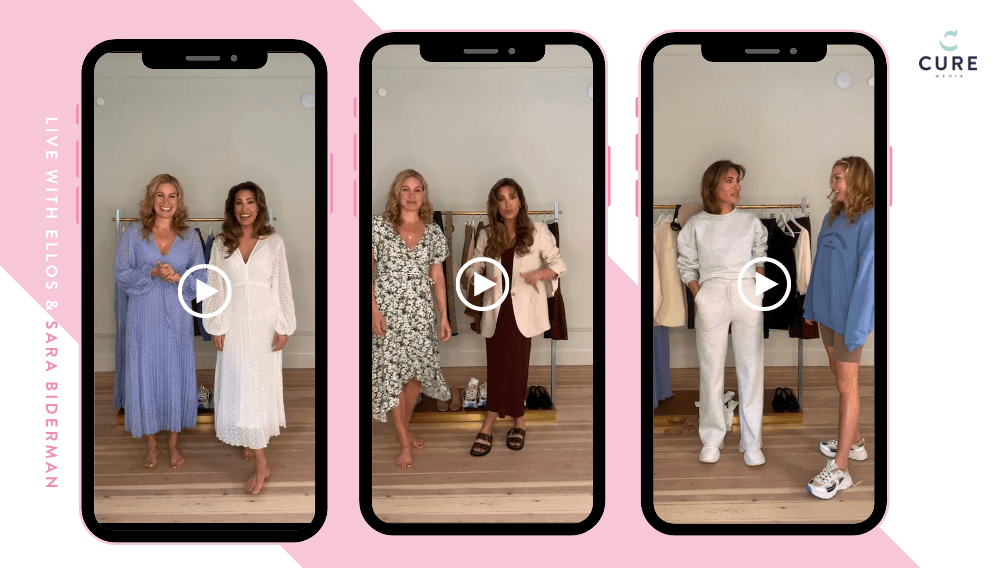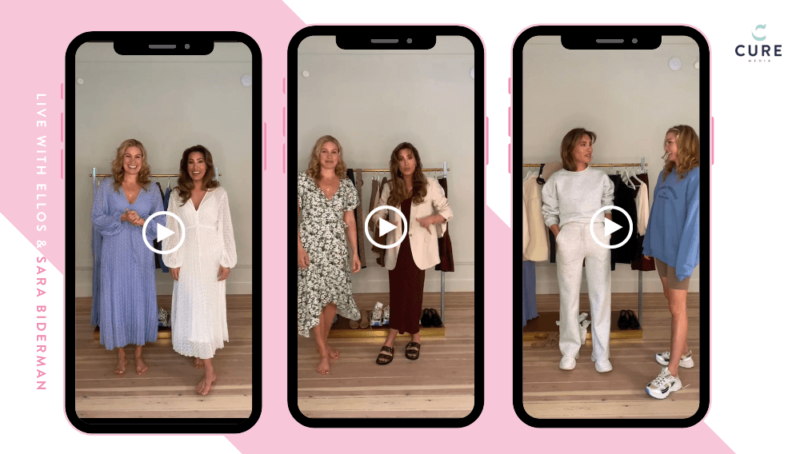 This is particularly effective with companies who are trying to reach Gen Z or Millennials, because like you and me, they respond to a peer recommendation, such as through an influencer ad more so than communication directly from the brand.
Keep in mind that It takes time for your investment to generate results and your KPIs will probably be lower than what you're used to in your established markets. This is due to the lack of brand awareness, which is why you will need to invest much more time and resources – something that can be difficult to manage in-house.
What are the different shopping features on Instagram?
Let's walk through the main social shopping features t