Today, 51% of the world's population spend time on social media. Social platforms offer people the opportunity to meet online and share information, inspiration and insights. As our society becomes more digital, much of our social interaction is online, and our "regular" social circle is expanding to include people we follow on social platforms – influencers. We are simply spending more time than ever before on social media. With this in mind, we share our five key social media and influencer marketing trends for autumn 2020 in this report.
Social media trends: Autumn 2020
1. Shopping via social media
Last spring, we saw that Instagram released several new tools and features. Many of them to help small businesses, influencers and individuals who have been affected by the ongoing corona pandemic. Among these tools, there are stickers for Instagram Stories, a tool that allows companies and individuals to promote gift cards and food orders as well as to create a personal fundraiser.
One feature that is likely to make a big difference in how we shop online is Instagram Shop. According to Instagram, this feature is a new way for users to discover and buy products from brands and creators – without having to leave the app. Shopping and paying without having to leave the app seems to be the biggest step towards a new shopping behaviour for Instagram users. Unfortunately, this has only been launched in the US so far. Instagram Live has received similar additions in the form of Live Shopping; an opportunity for brands and creators to sell products directly through a live broadcast by tagging them.
Shopping via social media is getting increasingly popular, and combined with the change we see in our digital behaviour, this trend shows no signs of slowing down. A new survey by GlobalWebIndex shows that 56% of consumers who follow influencers turn to them for information about brands, products and honest reviews. This shows even more that we as humans turn to one another, especially when we trust someone.
With Instagram Shopping, creators and brands get new opportunities to increase sales. Now, they can not only get sales through a website or physical store but also directly through influencers – without the customer having to leave the app.
2. Fun and authentic content engage us more than ever
After the outbreak of Covid-19 social media has gained a whole new meaning for many people. Due to restrictions with social distancing and recommendations to stay at home, we have increased our use of social platforms to connect, be entertained and to shop online. We believe that social media will see more of this behaviour in 2020 as well as in the long run.
For example, many say they've dared to be more honest about their personal lives on social media. This indicates that we are more comfortable sharing a more true picture of ourselves and that a perfect feed might not be a top priority anymore. Therefore, it's no wonder that user-generated content is becoming increasingly popular. The strength of UGC (= user-generated content) is that we are all people and we have trust in other people, and even more in people that we actively follow and engage with every day.
A recent survey conducted by GlobalWebIndex shows that fun and entertaining content is one of the main reasons why we turn to social media. Therefore, think twice about your message and your content this autumn. No matter how well-thought-out your marketing may be, it's easy to forget how emotion-driven humans are. This is why it's more important now than ever to create a dialogue and to build a relationship with your target audience. Also, communicate with your target group where they spend time, on their terms and with relevant content. You should always be able to demonstrate clear value – preferably through entertaining and authentic content.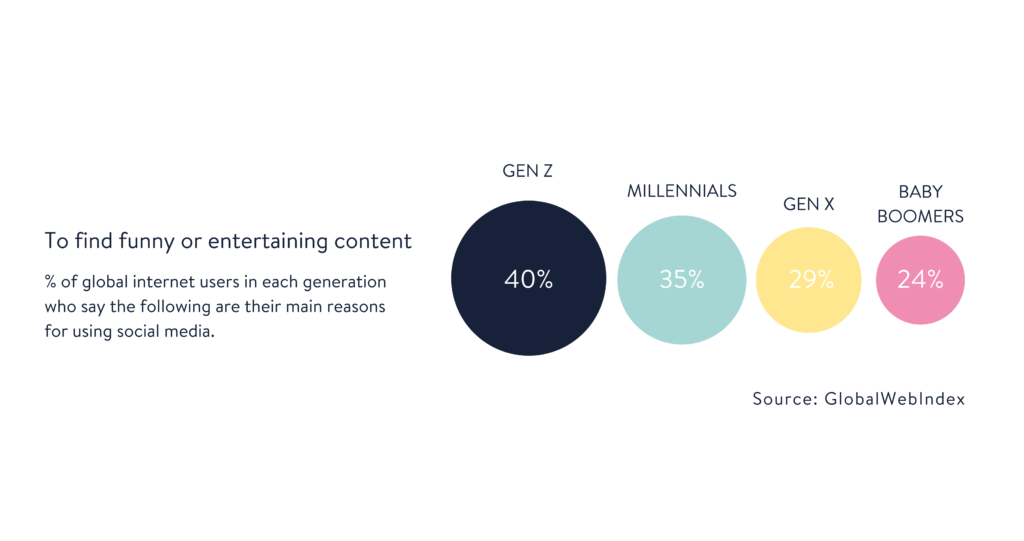 To build a loyal customer base it's important to build a close relationship with your target group – something that requires continuity and a long-term perspective. Since influencers often have years of experience with what their followers (= your target group) like, the marketing will be a natural element in the audience's daily media consumption instead of an intrusive interruption. Therefore, relevance is one of the most important reasons why influencer marketing is an effective marketing tool to increase brand awareness. The risk that your marketing is perceived as disruptive (like commercials in the middle of a movie on TV) is also drastically reduced.
In this report, you'll find 22 pages with our best tips and advice on how to navigate your company through the jungle of the new media landscape during (and after) Covid-19.
3. Everyone can create filters for Instagram Stories
Since its launch in 2016, Instagram Stories has grown at a record pace with more than 500 million accounts publishing Stories every day. As mentioned earlier, tools like stickers have made it possible for users to interact with their followers in several different ways. A trend we will see more of in 2020 is that Instagram users will focus more on creating aesthetically appealing Stories. For example, in TikTok tutorials, users share inspiring tips and tricks for how to create unique effects, layouts and unique GIFs. (Curious? Go on TikTok and search for #storyhack.)
If you spend time on social media you've probably seen that Instagram has made it available for users to create their own filters in Stories. When using filters for Stories, the name of both the creator and the filter is shown in the top left corner, right below the profile name. By clicking on the filter you can try it, save it to your library or see more filters from the same creator. This makes it possible for filters to go viral and result in huge reach and awareness for the account behind it. This tool goes hand in hand with creating fun and entertaining content. This is what you need to do to use your saved filters or to find new ones!
4. More companies are recognising the value of User Generated Content
The foremost strength of User Generated Content (UGC) is its high credibility and authenticity – it's a person with his or her own voice behind it. When you let an influencer create content for you (Influencer Generated Content = IGC), you can achieve the same effect. As mentioned earlier, people relate better to a message when it comes from a regular person, rather than from a company – it's inherent in our nature. In many cases, the influencers you choose to work with are also part of your target group for the product or service in question, which provides you with content created for your target audience and by your target audience. We recommend that you use this content in your own social channels.
Want to learn more about how your influencer marketing can become a content gold mine? Check out this blog post!
5. Reels vs TikTok
In August 2020, Facebook launched Instagram Reels in more than 50 countries, a tool that allows users to record 15-second videos with audio and creative effects. If this sounds familiar, you're absolutely right. The video-sharing app TikTok has an identical concept and Instagram Reels is for sure a competitor. Also, TikTok recently got into trouble with the US because of its Chinese owner ByteDance and in August 2020, US President Donald Trump signed an executive order to prohibit TikTok.
So, how does Instagram Reels work? If you have a public account on Instagram you can create your own Reels and share them on Instagram's´ "Explore". Explore is the place to post if your Reels videos have the chance to become viral as they appear for users outside your followers. If you use sounds, hashtags and effects, your video can also become viral through them. All users, regardless if their account is private or public, can also share Reels in their Instagram Feed and Stories. Both Red Bull and Louis Vuitton are examples of brands that have started using Reels with success.
But the question remains – will Instagram Reels replace TikTok in the same way that Instagram Stories has replaced stories on Snapchat? As the interest in video content continues to grow and entertaining content is a strong driving force for us to turn to social platforms, we believe that Reels, just like TikTok's record-breaking success, have a bright future. If you want to learn more about TikTok, we recommend you read this blog post!
Consumer behaviour is changing rapidly and for you, as a marketer, it's important to always have your ear to the ground to know where your target audience spends time and what content they're engaging with. We hope that this trend report was helpful in gaining new insights for your social media and influencer marketing-strategy and that it made you inspired for the upcoming autumn. Good luck!
Stay up-to-date on the latest social media news and trends in our podcast!