An ever-increasing number of companies are shifting greater portions of their marketing budgets to influencer marketing. Recently released figures show that the value of the industry has more than doubled since 2019, growing from $6.5 billion to $13.8 billion in only three years.
From Instagram's industry-shaking video-first strategy shift, to the gradual emergence from lockdown, 2021 has been a transformative year for influencer marketing. But there's no time to dwell on the past. In this blog post, we get to the bottom of the biggest question on everyone's lips right now: What does influencer marketing have in store for 2022?
What are the influencer marketing trends for 2022?
1. Data-driven influencer marketing
To keep pace with the rapid development of the influencer marketing industry, a data-driven approach to the channel is increasingly important – otherwise you risk throwing money down the drain.
It will come as no surprise that the more money brands invest in influencer marketing, the more important the ROI becomes, and quantifiable data is just as integral here as it is in any other channel to both achieve higher returns and to track the returns you do get.
To give you an idea of how much brands are investing in the channel today, almost 4 out of 10 say they invest between 10-20% of their marketing budget into influencer marketing, and 1 in 10 brands say they invest more than 40%.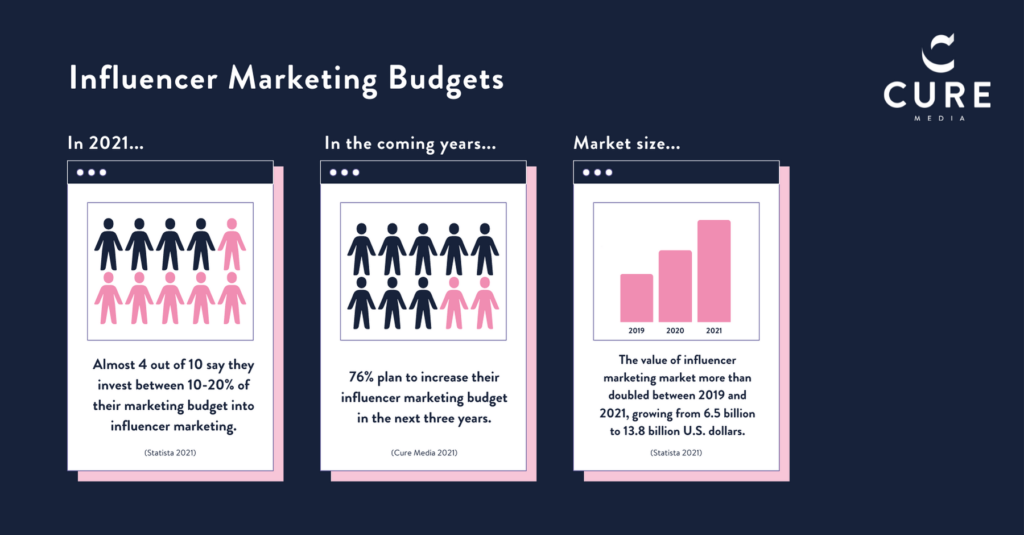 Data-driven influencer marketing gives you greater efficiency and generally higher returns. At Cure Media, you'll find data woven into every aspect of our approach to influencer marketing, from beginning to end but, perhaps most importantly, in the middle while activations are still running.
Data is invaluable to us when it comes to consulting with brands on the KPIs they need and identifying the influencer accounts that will help them achieve them, but it's also something we rely heavily on to track performance and optimise campaigns on a continuous basis. While not as common in the industry, with many influencer campaigns still aesthetically focused and brand-centric, our data-informed approach has been refined over our many years in the industry and continues to be one of our most powerful weapons, enabling us to combine brand and performance marketing within a singular channel.
Learn about the value of having a data-driven influencer marketing strategy from our Co-founder, Kristian Melå.
To maximise the returns you see from influencer marketing, we highly recommend replicating this data-driven strategy within your own activations. The applications for data are wide-ranging, from spotting the content formats that will perform best with your target audience to establishing the appropriate amount of budget to invest, but using it in any format is better than none at all.
As audiences' feeds become ever more saturated, data will become key to success in influencer marketing in 2022 and the coming years. But not without an always-on approach! Which takes us to the next trend you'll want to anticipate…
2. Always-on influencer marketing
Historically, a short term approach has been somewhat of a norm within influencer marketing. One-off campaigns that span just a few weeks or even a few days are unfortunately not a rare sight. However, more and more companies are moving away from campaign-based influencer marketing in favour of an always-on strategy. When talking about measuring and optimising, an always-on strategy has been critical to our own success and longevity in a rapidly innovating field.
But what is an always-on approach? Always-on influencer marketing means that you as a brand establish a consistent presence on social media via the influencers that your target audience follows, relates to and relies on. The idea is to ensure that you appear in your consumers' feeds (and lives) during their "moments of need", but also to do the groundwork over time to ensure you are top of mind when that purchasing window arrives. With brand loyalty at an all time low, it will usually take multiple touches to convert prospects nowadays – something a one-off campaign simply cannot accomplish.
View this post on Instagram
The combination of a data driven approach and working always-on is going to be critical in 2022 – trust us on this one! With data in hand you have the technical tools to succeed and with an always-on approach you will have the possibility to measure and optimise your influencer marketing efforts.
Look at it like training for a marathon. You've got all the equipment: a pair of leggings to keep you limber, a running belt crammed full of energy gels, and the best pair of arch-supporting, ankle-guarding running shoes money can buy. But if you've only put in one practice run once prior to the race then you probably don't stand the best chance of winning…or finishing, for that matter. Instead, you should have committed to a training regime months ago, acclimatising to your optimal pace and building up your endurance and fitness.
With always-on influencer marketing, you combine your equipment (data) and your hours of training (always-on) to maximise your performance. Only then will you realise the true extent of what you can achieve.
3. Deconstructing the influencer marketing silo
Treating influencer marketing as a silo function means making a limited number of occasional impacts, one-off successes that exist outside of your wider marketing strategy and therefore cannot be built upon or leveraged effectively. You may even see short-term increases in sales but in the long run it will be difficult to maintain your place top-of-mind among your target group (or perhaps even to reach it).
The fact that the effect is short-term means influencer marketing in a silo is not something that we recommend. Influencer marketing has the potential to create an extraordinary halo effect on other marketing channels, so by failing to give it a meaningful place within your marketing mix you will generally be waving goodbye to some of its greatest benefits.
Instead, while working always-on within your data-driven strategy, you should maintain a holistic understanding of how influencer marketing ties into your other marketing channels, and informs and interacts with your wider strategy. And be sure to keep an open mind as to how the different channels can collaborate and complement each other.
Let's say, you're not alone if you think measuring the effect of influencer marketing is a challenge. Learn how to approach this challenge in our webinar together with our Head of Marketing, Sanna Ödmark and Head of Customer Success, Emma Lundsten here.
View this post on Instagram