Social media moves at a sprinter's pace. Ever evolving, it exists in a state of flux, torn between the demands and expectations of its users and the whims of the heads looking for new ways to stand out in an increasingly crowded marketplace (and, if we're being honest, to find more revenue streams while they're at it).
So while the social media trends for 2022 were all about TikTok and social commerce, as we look ahead to 2023 we can already see a shift in the things brands need to bear in mind as they flesh out their social media strategy for the new year.
What remains true is that social media continues to be one of, if not the most important platform for engaging shoppers in the fashion and lifestyle spaces. With research we conducted earlier in 2022 confirming that 100% of consumers turn to their favourite platforms for inspo before making a fashion or lifestyle purchase, investing in your social media presence remains critical to business success.
Now, as we gear up for a busy fourth quarter of 2022, let's take a peek ahead at what we'll be seeing more of in 2023…
What are the social media trends for 2023?
1. Authenticity 2.0
Instagram's video-first strategy shift took us all by surprise…or did it, really? We all know that video has been appearing on trends lists for a while now but 2021 really felt One of the most overused words in social media (though not without cause) authenticity is the super power behind the channel. Responding to strained relationships between brands and their audiences, as well as increased consumer cynicism, authentic content, posts shared in real time, personalities and bodies that social media users can relate to have come to be not just an expectation but a demand.
Now given the prevalence of conversations surrounding the subject, you might wonder how it's found its way onto a trends list for 2023. It's hardly news. However, for 2023 and beyond, the consumer appetite for authenticity from both a brand and creator perspective is set to dig even deeper.
With the popularity of TikTok and the even more impromptu BeReal, audiences are demonstrating their preference for content that eschews polished profiles in favour of in-the-moment, true-to-life documentation.
This preference will continue to be reflected in the aesthetics we see on Instagram, as flash photography and filter-free images gain traction, and photo dumps of everyday life (either in carousel or reel formats) take precedence over more traditionally 'insta' content.
Live happenings on social media are a concrete example of a format that has been amplified by the pandemic, and one that will continue to grow in 2022.
There are plenty of opportunities for brands to capitalise on the live video format. Especially as more and more social platforms bet big on social commerce, this is something you should be ready to take advantage of.
2. TikTok…but better
TikTok is hardly a new player in the market nowadays but that isn't stopping it from making headlines and breaking records. Previously derided as a dance app, then as a voiceover app, the app's 30.8 million daily users are now a force to be reckoned with and brands need to step up their game if they want to make their mark on this still fertile terrain.
In 2023, we expect to see this happen. Presently, we're still seeing the same mistakes being made on the platform with, at worst, Instagram content being blatantly reposted, and at best, the same strategies being deployed across both platforms. But as brands come to accept that TikTok is something they need to take seriously (particularly as younger generations come into financial independence and older consumers migrate onto the platform), we'll see a much more competitive playing field.
Crucially, we expect to see brands embrace the premise of social content as entertainment rather than advertising – and yes, that includes on owned channels. So the earlier you start, the better.
And if that's got you drawing a big old blank then sign up for our webinar below and get advice from people who have already done it…

3. Interactivity is a must
Engagement was one thing, now the algorithms want interaction. Putting the social back into social media, platforms are introducing new ways for brands and creators to create a two-way dialogue with their followers – and will reward those who deploy them well.
Whether it's Instagram's reaction stickers in reels, or TikTok's increasing push for video stitching, the powers that be are clearly calling for a more interactive approach to how we use the platforms.
However, while this might sound like just one more thing to worry about for brands, these new tools represent a perfect opportunity to build and nurture real relationships with your audience at a much lower investment level than in previous years where you would have to reply to individual comments. Introducing regular Q&A sessions in your stories or on reels, for example, can be a great way to make your audience feel heard, while also giving you the opportunity to respond to questions that help highlight the benefits of your product or service, or even just in following your account thereby growing your audience further.
In a time where users are becoming critical of the excessive number of ads exhibited on social media platforms (often at the expense of the content they have actually chosen to follow), this is an invaluable opportunity to differentiate your brand from the billboard masses.
4. The human touch
While brands will generally continue to recognise the importance of a presence on social media, in 2023 we'll see them finally embrace a more human approach to the channel. This will manifest in two different strategies and the smartest brands will incorporate both, deploying a seamless combination of UGC (user-generated content) or IGC alongside a fresh take on brand content.
Maximising the potential of peer-to-peer (P2P) communication and leaning into that thirst for authenticity, more of the traditional brands will follow the example of their digital native peers and begin to prioritise content that stars 'real' users rather than models.
Simultaneously, we expect to see more brands taking advantage of the more casual environment that social media provides and which its users prefer. As they become more interactive and responsive, they will also adopt more conversational tones and present a more personable front; their content will show more of the 'inner workings' of the business and drop the polished sheen we're used to seeing from brands.
Listen to the co-founders of Djerf Avenue explain how they embodied this strategy from day dot (and see why it paid off)…
As we move into 2023 the message from platforms and users alike is loud and clear: keep it real. While that will manifest differently on different platforms – Instagram users are still much more tolerant of aesthetic content, for example – brands are going to have to dig a lot deeper if they want to retain their audience, never mind convert them.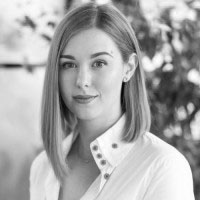 As Cure Media's Marketing Manager for the UK, Holly is relieved to finally have an excuse for how much time she spends on Instagram. When she isn't glued to her favourite influencers' feeds, Holly is an enthusiastic patron of the London brunch scene and a lover of all things theatre.