Even though social media live streaming is a fairly new phenomenon, more and more brands are now starting to adjust their social media strategies, and their influencer marketing strategies, accordingly. In this blog post, we'll focus on live streams and live shopping on social media through influencers and why this is a great idea for fashion brands to do.
What is a live stream on social media?
Even though the word is quite self-explanatory, we can start by just defining what a live stream on social media is.
A live stream on social media is basically a video broadcast in real-time. But compared to many other live streams, the social media aspect of it turns these videos from broadcasts into conversations. Users can comment and engage in different ways, and you can respond in real-time.
Right now, social media live streaming is really taking off. Channels like Twitter, LinkedIn, Facebook, and of course Instagram, have recently integrated live video as a huge part of their platforms.
Looking back, people have always liked the live format. One example is the traditional TV format. It's something captivating about watching an event as it happens, given the feeling of being at the centre of it and where anything can happen. This urge has increased even more during the pandemic as a result of many of us spending more time at home – alone. Over the last year, we've turned to social media to interact with other people more than ever before.
Luckily, almost everyone is armed with a smartphone and a social media account. So you don't need to be a big famous director for Saturday Night Live in order to create great live content!
What is live shopping on social media?
Live shopping on social media is similar to a live stream but with the purpose of making the viewers shop the items showcased. The eCommerce aspect of social media is going big right now and Instagram and Facebook are at the forefront of implementing the possibility for creators and businesses to host live shopping on their platforms, with TikTok close behind.
Below is an example of a live shopping event we did together with Ellos. Watch the IGTV-video here!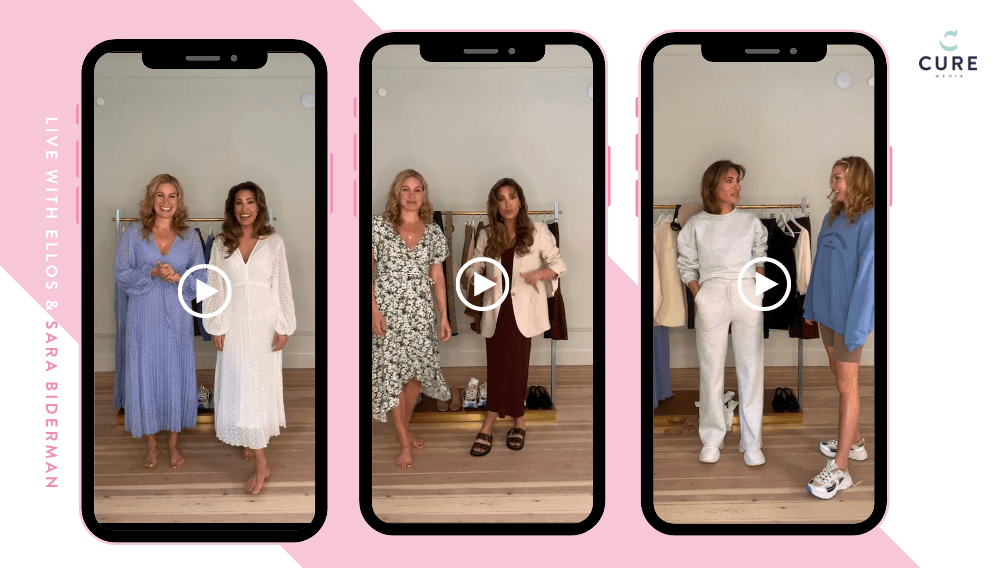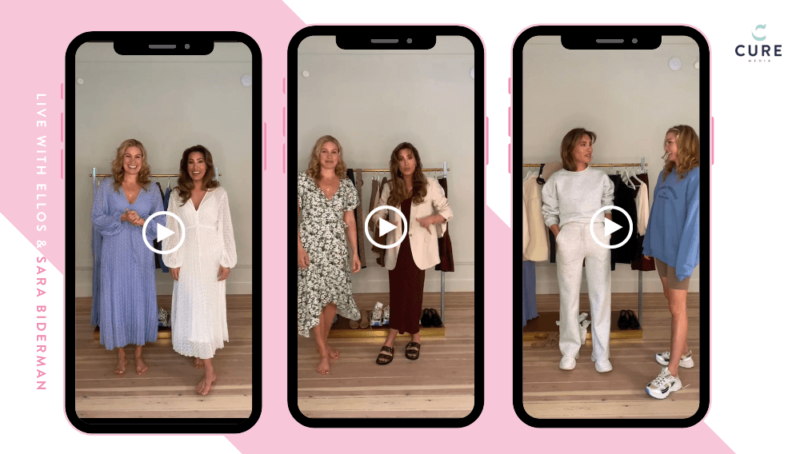 How to set up Instagram Live shopping
Create a Live on Instagram by following these steps:
Open the Instagram app.
Tap the icon shaped like a camera at the top right corner.
Scroll to Live at the bottom.
Add a title to your Live.
Add products to the Live.
Tap the broadcast button.
You're live!
When you want to end the live, tap End in the top right.
Save the live video by pressing the arrow in the top left, or share it to your IGTV.
Here are some practical tips from the @instagramforbusiness account!
Visa det här inlägget på Instagram
The option to tag products directly in the live stream is great. On Instagram, this option is available for businesses and creators. With this feature, viewers will have the option to buy and save products that have been added to the video. You can add up to 30 products to your live stream. Keep in mind that you have to do this before you go live. During the live broadcast, you can pin one product at a time.
Learn more about social shopping on Instagram in this blog post!
Three reasons why fashion brands should go live on social media with influencers
You'll create an intimate connection with your audience and can create a high level of engagement
In a live video, it's possible to create a deeper dialogue with the viewers. So as a fashion brand you can get an idea of what questions your audience has, what's on their mind and how you can better meet their needs – both in terms of product lines but also from a content and communication perspective.
Another thing worth mentioning is the authenticity aspect, which is what generations such as Millenials and Gen Z value highly when they think of purchasing from a brand today. Live streams are not always polished and things don't always go according to plan. But this is the unique thing that makes it so effective! It's authentic, and this is also why it's so good.
You'll capture eyeballs and favour the Instagram algorithm
Right now, all of the big social platforms prioritize live content in their feeds. Like with most new features – they want to favour those who are early on and help drive the platform forward.
Also, since this is a quite new feature not all brands have set a strategy for it yet. This means there is an opportunity for you to stand out from the crowd and catch your audience's attention where they spend time.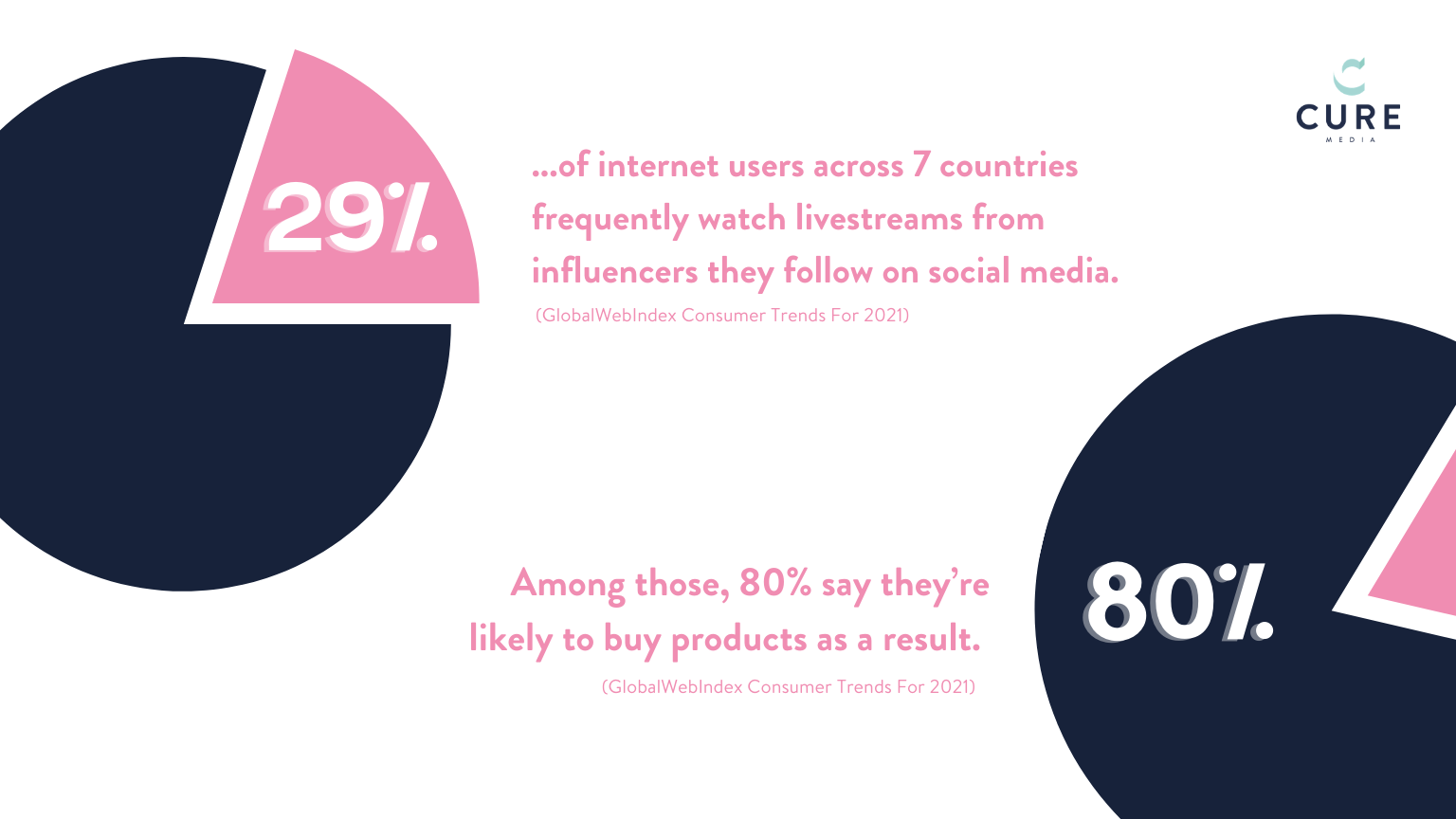 You'll provide a better shopping experience and decrease the level of product returns
A good example of a live stream could be a fashion company that wants to show pieces from a new collection through an influencer. In this scenario, the viewers can ask questions about the fabric, sizes, the color, and get feedback right away. Compared to shopping for something based on what it looks like in a photo the viewers can get a better idea of whether this product is something for them or not.
Perhaps the most interesting part – we can see in many of our customers' campaigns that the level of returns decreases when they do live shopping – a positive bonus effect. The decrease in returns is also applicable to brands that use influencer- and user-generated content on their social media platforms, website, etc. This is because it's much easier to see how a product looks when it's shown in a normal context, with different lighting, how it looks when you move, and of course, on different kinds of body shapes.
What fashion brands need to know about creating a successful live stream on social media
For this section, we asked our experts in the operation team, who know everything there is to know about live streams on social media with influencers. Here are their best advice:
Work with the influencer beforehand
Before doing a live stream with an influencer, it can be a good idea to first work with them on some "regular" collaborations. In this way, you know that it is an influencer who delivers good results for your brand and that this person is someone you can trust.
Why is trust important? Because live streams are vulnerable in the sense that anything can happen and you as a brand won't be able to control the exact result, compared to a regular collaboration. Therefore, it's important that you have a relationship in place and that you trust this person to do a great job.
The influencer needs to be comfortable with the live format
Ensure you choose an influencer who is used to the video format and who is comfortable and natural in front of the camera. Different people have different strengths. Some love doing stories and chatting with their followers through videos and live formats, while others prefer to post photos and express themselves in text.
We've all been there, in the audience, watching someone that is really uncomfortable in a live format. It doesn't make the experience entertaining or give the audience a good feeling.
Create a conversation with the audience
Encourage the influencer to invite the viewers to a conversation that creates interaction and engagement, for example by asking them questions, sharing stories related to the topic. It's a good idea to prepare with relevant topics to talk about or brief the influencer with common questions related to the products or services shown.
Go live when the audience is online
To get as many viewers as possible, ask the influencer about which times normally work best, i.e. when they get the most engagement and interactions from their followers. In most cases, you should definitely avoid working hours.
If you've worked with the influencer before, which we recommend, you should already know which times and dates work well.
Promote the upcoming live stream on social media
Another tip to get as many viewers as possible is to make sure that the influencer informs their followers the day (preferably several days!) before so that they know that the live stream is coming up. You as a brand should of course promote this on your own channels too!
A reminder on the same day is a good idea as most of us have many things on our minds and we need reminders. Use the Countdown Sticker on Instagram Stories so that people who want to see it can get a notification from the app when it starts.
If you are to share a discount code, this can be used as a teaser to drive even more followers who are in a shopping mode. As you get closer to the event day, promote this on your own channels with different kinds of content and information to engage your followers for the upcoming day. Ever heard of the FOMO-feeling?
Someone that can help read comments and questions
It's