One of the challenges of measuring the effect of influencer marketing is that it is not always visible as a direct result of the established influencer activation. In practice, a large part of the results that influencer marketing generates appears in other channels, which is not always easy to demonstrate. One common scenario, as an example, is that a large share of the traffic to a website or a specific product is created high up in the funnel, with the help of influencers and social media, but that this traffic is then driven down the funnel, using channels such as SEO (organic search) or SEM (paid search).
Does this sound complicated? In this blogpost we'll walk you through how you can to differentiate the effect of influencer marketing from other channels!
Two common scenarios
Imagine scrolling through your Instagram feed at lunchtime and seeing a product, let's say a denim dress, on an influencer's account that you follow. You fall for the piece immediately but you're not ready to buy right away, because your focus is elsewhere right now. When you get back to your computer, you'll think about that dress again, and decide to search for it. Then maybe you go back to the influencer's account and look for the dress there, but another likely scenario is that you go straight to Google and do a search there for "brand+product" to find it. In this scenario, the traffic is driven in via SEO or SEM, even if from the start it was influencer marketing that created traction higher up in the funnel.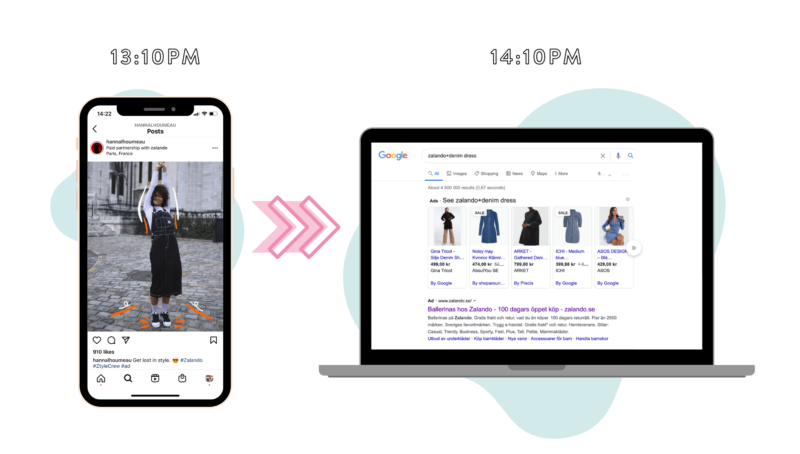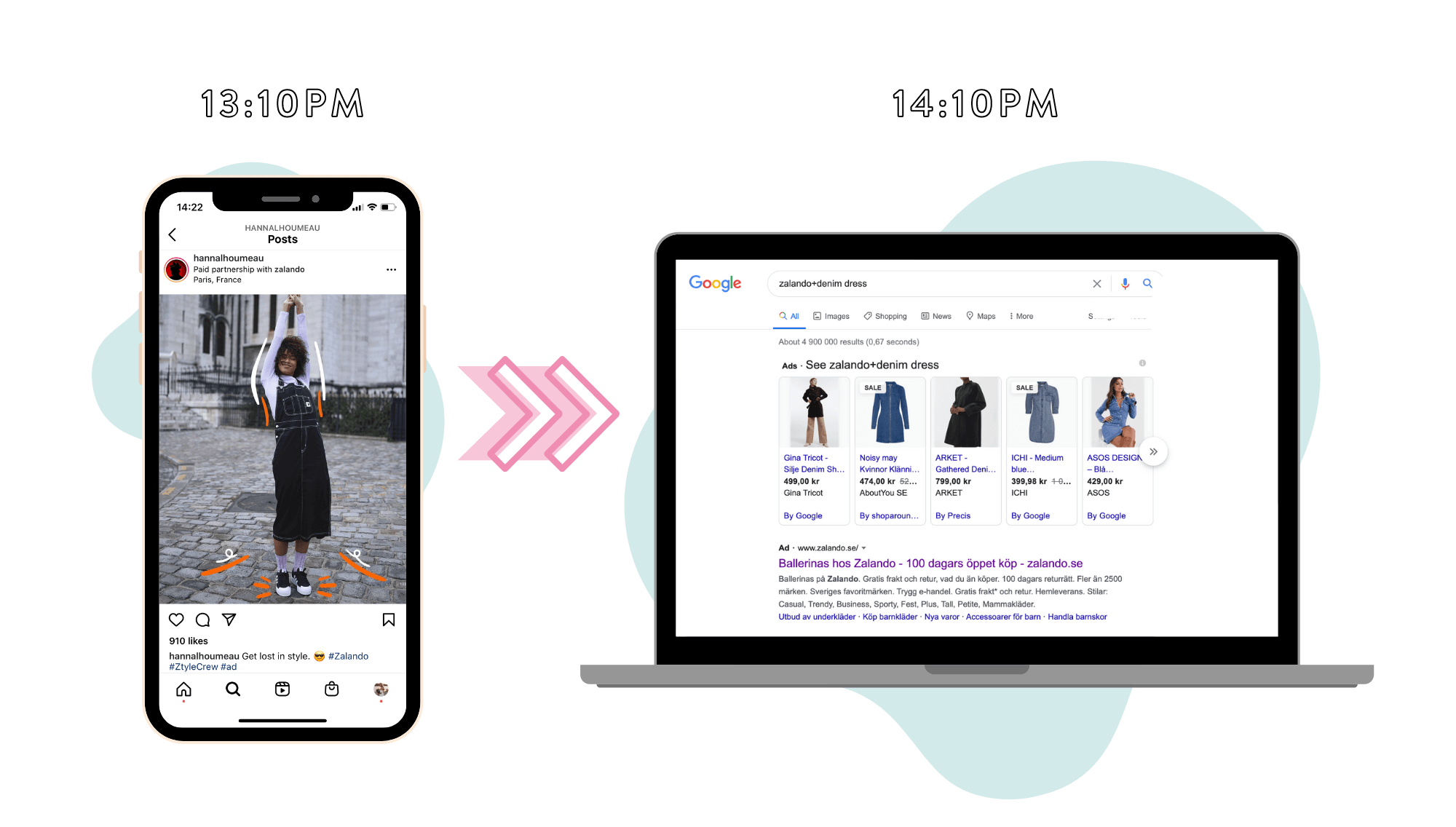 Another scenario could be that you see a collaboration on Instagram, let's say for a specific skincare brand, with a current offer of 20% discount on the entire range. You take a screenshot and send it to a friend who you know also loves this same brand. The friend in turn goes directly to the company's website and fills their shopping trolley with their favourites. In this case, the source will be direct traffic, although it was in fact an influencer collaboration that led to the visit and the purchase.
The question is, then, how do you go about differentiating the effect generated via influencers from the effect driven by other channels?
Three ways to differentiate traffic generated by influencer marketing
When it comes to KPI's such as sales and conversions, i.e. activities that take place on your own site, we recommend that you use Google Analytics primarily – in other words, the same tools you probably use for measuring your other marketing activities. By using features such as UTM tags and goal tracking, you get an overall picture of what your investment is generating in direct results. However, this doesn't solve the challenge of measuring the effect your influencer marketing has on other channels – to understand that, you need to go one step further. Here are three common approaches.
1. Compare selected periods
To be able to understand how your other channels are affected in connection with you carrying out influencer marketing, we recommend you create a search for the period when the influencers have been posting. Afterwards, you can compare the results from the different channels with the same times in the preceding period. Depending how long you have been in action, this could be the previous week, month or even year. In order to more easily distinguish clear peaks in your other channels, you should ensure that as many influencers as possible post during a concentrated period, for example on the same day.
If you haven't made any major changes to your other media investments (e.g. increased your budget for Google ads) and you see an increase in conversion during the period when influencers have been posting, in most cases you can attribute this improvement in results to your influencer activation. It's important to keep track of the changes you make (or don't make) in all your media channels, in order to get as accurate an overall picture as possible.
2. Use unique codes
One useful approach for being able to measure the impact of your influenc